Hi guys,
I love getting crafty, and Christmas is the perfect time to exercise my love of all thing craft with a real purpose. So I thought that every Saturday during December I would share one of my seasonal crafts with you guys.
Well, Christmas is almost upon us (just three more sleeps to go!) So I thought that rather than give you guys another sewing project you won't have the time to complete, I would give you my favourite Christmas biscuit recipe. It's my favourite because they taste delicious and it's so so simple to make: even for a not especially proficient baker like me! (I'm not being modest: you can see how unproficient I am by how messy the icing is!)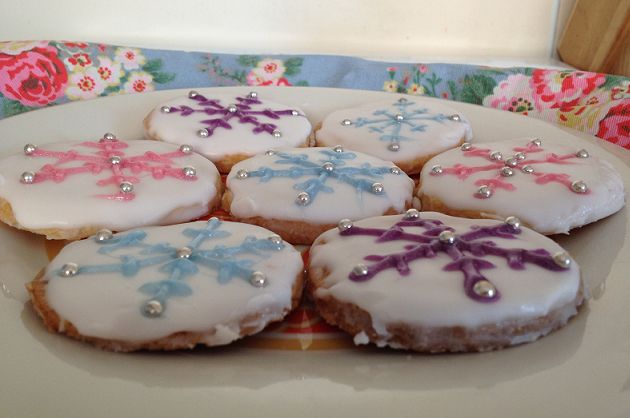 Ingredients
250g softened butter
150g caster sugar
300g plain flour
3 tbspoons almond extract
250g icing sugar
Icing pens/embellishment for decoration
-These really are so simple to make that there are surprisingly few instructions! First pre-heat your oven to 180oC
-Using a large mixing bowl mix together the butter, caster sugar, and 2 tablespoons of almond oil
-Gradually add the flour until you have a large ball of pastry with a doughy consistency
-Roll out the biscuit pastry and cut out biscuit shapes with a cookie cutter (I used a simple round one)
- Bake for 12-15 minutes, or until the biscuits are starting to turn very lightly brown.
-Leave the biscuits to cool whilst making the icing: mix the icing sugar with the final tablespoon full of almond oil then add water until you have a thick paste consistency.
-Now it's time to decorate! Obviously you can decorate these however you want, but I like this easy to execute snowflake design: I just drew it on using an icing pen.
Mary Berry wouldn't be particularly impressed with my decorating skills, but this plateful of biscuits was so well received that it was munched down by my hubby in just one afternoon! Just three more sleeps to go until Christmas: I hope you all have a wonderful time!
Love Tor